Actual Image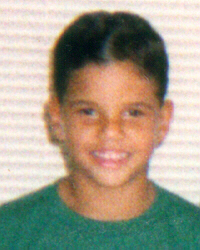 Florida Department of Law Enforcement


---

Missing Endangered Persons Information Clearinghouse
MISSING CHILD
RUNAWAY
JONATHAN MORDOCHE
Date Missing: 8/28/1999
Missing From: Miami,FL
County: DADE
Birth Date: 6/25/1991
Age Disappeared: 8 yrs 2 months
Height: 4' 08"
Race: White
Hair: Black
Weight: 085
Sex: Male
Eyes: Brown
Narrative: Jonathan was last seen with his mother and brother, Mario. They were traveling to Tampa, FL and never arrived. They may be traveling in a brown 99 Chevy Malibu, FL tag GH830M.