Actual Image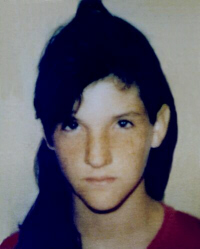 Florida Department of Law Enforcement


---

Missing Endangered Persons Information Clearinghouse
MISSING CHILD
RUNAWAY
JENNIFER RAE PERRY
Date Missing: 7/30/1993
Missing From: Marathon,FL
County: MONROE
Birth Date: 2/18/1980
Age Disappeared: 13 yrs 5 months
Height: 5' 04"
Race: White
Hair: Brown
Weight: 105
Sex: Female
Eyes: Blue
Narrative: Jennifer was last seen in the Marathon, FL area. She has a scar on the left inside forearm. She may have dyed her hair blonde. Her eyes are dark blue. Her photo has been age progressed to 30 years old.