Actual Image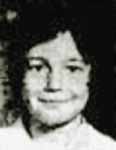 Florida Department of Law Enforcement


---

Missing Endangered Persons Information Clearinghouse
MISSING CHILD
ENDANGERED
WENDY BROWN STEVENSON
Date Missing: 12/29/1969
Missing From: Pompano Beach,FL
County: BROWARD
Birth Date: 6/20/1961
Age Disappeared: 8 yrs 6 months
Height: 4' 02"
Race: White
Hair: Brown
Weight: 061
Sex: Female
Eyes: Hazel
Narrative: Wendy Stevenson went missing on December 29, 1969. She was accompanied by 9 year old Peggy Rahn, who is also listed as missing. She has a scar on her right brow and freckles. She was last seen in Pompano Beach, walking towards the beach parking lot to buy ice cream cones with Peggy Rahn. She was last seen wearing a blue and white checkered bikini.