Composit Image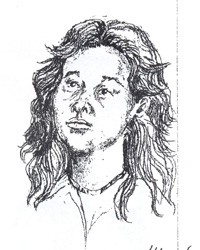 Florida Department of Law Enforcement


---

Missing Endangered Persons Information Clearinghouse
Missing Adult

UNIDENTIFIED UNKNOWN
Date Missing: 12/23/1975
Missing From: Davie,FL
County: BROWARD
Birth Date: 1/1/1948
Age Disappeared: 27 yrs 11 months
Height: 5' 05"
Race: White
Hair: Brown
Weight: 125
Sex: Female
Eyes: Unknown
Narrative: On December 23, 1975, an unidentified female was found in the 2400 block of 154th Avenue in Davie, Broward County, Florida. She is believed to be between the ages of 18-35. She has a gap between her two front top and bottom teeth. She was wearing a green flower-printed blouse, blue flared pants, and blue platform shoes. She was also wearing a white puka necklace, made from bits of shells, and a silver ring with a blue stone in the center surrounded by three white gems. The photo displayed is an artist's composite. For further information please contact the Davie Police Department or the Broward Medical Examiner's Office at 954-357-5200.